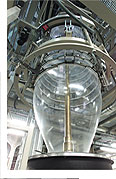 The computer controlled profile measurement, in combination with basis weight regulation, guarantees the lowest tolerance value, well below the average in the sector.
Film characteristics are secured thanks to gravimetric weighing in the dosage of additive packets. Here, up to 12 different components can be mixed. Through sophisticated winding techniques, absolute flatness and outstanding reel geometry are guaranteed.
This trend-setting technology is controlled and monitored by experienced machine operators.